Jm "Tesseract" Ignacio is the second addition to the squad in recent days.
INDIA – Enigma Gaming have brought on Jm "Tesseract" Ignacio from Orangutan to establish a six-man roster, the organization announced Monday. This move comes shortly after EG's recent signing of former Global Esports CS player Norbu "Karam1L" Tsering in place of the now-retired Tejas "Rexy" Kotian, as well as Orangutan's recent roster overhaul that saw three players and an analyst depart the team.
Prior to this signing, Tesseract was most notable for his short yet memorable four-month spell with India-based Orangutan. In that period, the Filipino Sova managed to put up respectable numbers, accumulating an average rating of 237.66 across three tournaments played, two of which culminated in second runners-up finishes.
ALSO READ: Team SMG unveil Tarathiel and Ratatoulyse signings ahead of Game Changers APAC Elite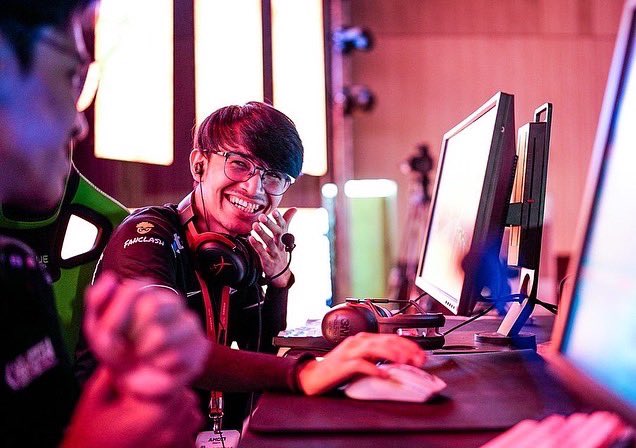 He led Orangutan statistically in multiple aspects, including a record for the most kills at the Skyesports Champions Series against Enigma Gaming, his current new team, where he managed 37 frags. However, despite Tesseract's outstanding performance, which saw him end the map with 380 ACS, Orangutan were unable to capitalize on the lead and let the two following maps slip away, costing them a spot in VCT APAC Stage 2 Challengers.
Tesseract played his final matches for Orangutan in the main event of The Esports Club Challenger Series 8, where the team finished as second-runner-up after powering them to victories over LFO, Medal Esports, and Reckoning Esports but losing to eventual champions Enigma Gaming in the lower final, 0-2.
EG will be hoping to continue building on their prior success, having won the inaugural season of Skyesports Pro Invitational as well as the aforementioned TEC Challenger Series 8. Sabyasachi "Antidote" Bose and his men were also close to winning back-to-back trophies in the second season of Skyesports Pro Invitational after falling short to Velocity Gaming in the closely-contested best-of-five grand final.
It remains unknown which player will be the team's starting five or if EG would take a different approach to utilize their six-man roster configuration, as the team have yet to play a match with their second-latest signing, Karam1L.
Since his arrival, Tesseract has already played and won his first match in the Esportz Premier Series Open Qualifier #3 with Enigma Gaming, defeating Suspect X in a 13-10 map of Ascent and posting an impressive 373 ACS with Fade. EG will next be found going head to head with ROG Academy in the second round of the Esportz Premier Series Open Qualifier #3 for a grand final spot which grants a spot in the main event.
With Tesseract on the roster, Enigma Gaming's six-man lineup is now:
🇮🇳 Akram "Rawfiul" Virani
🇮🇳 Sabyasachi "Antidote" Bose
🇮🇳 Rishi "RvK" Vijayakumar
🇮🇳 Karan "Excali" Mhaswadkar
🇮🇳 Norbu "Karam1L" Tsering
🇵🇭 Jm "Tesseract" Ignacio
🇩🇪 Lukas "yb" Gröning (Coach)
On the other side, Orangutan is currently left with the following South Asian trio:
🇮🇳 Vibhor "Vibhor" Vaid
🇮🇳 Garvit "Ember" Nehra
🇵🇰 Mustafa "shooterR" Kamal
🇲🇾 Mathanraj "theDoctorr" Munisparan (Coach)
🇮🇳 Prabhdeep "Ghost" Bhatia (Inactive)
🇲🇾 Arsyad "aduka" Sazali (Inactive)
🇸🇬 Felipe "skyeSG" Lim (Inactive – Analyst)
---
For more insights on the Asian VALORANT scene and upcoming content like this, be sure to like and follow VALO2ASIA on Facebook, Twitter & Instagram.
---
Cover photo courtesy of Skyesports