One guaranteed spot to VCT Masters 1 Reykjavik and KR₩105,000,000 (~US$84,738) will be up for grabs.
SOUTH KOREA — After three weeks of action, VCT Korea Stage 1 Challengers is coming to a close with a six-team playoff bracket, with the first games scheduled to begin on Thursday, March 17. The event will see VALORANT once again being played on stage and in front of fans as the event is set to take place at Sangam Colosseum in Seoul.
The tickets, ranging between US$8 and US$10, for Korea's second VALORANT LAN event sold out in less than a minute on Friday last week.
Korea has been running the first stage of VCT this year in a studio environment without a crowd at the AfreecaTV Studios in Seoul. While there were several COVID-19 instances found along the way, the tournament successfully made it to the last day of the group stage yesterday.
On Sla2ers (formerly ESportsConnected) and DRX (formerly Vision Strikers) enter playoffs as the most potential sides to clinch the Masters 1 spot.
DRX were on a six-game winning streak when On Sla2ers made the upset on the last day of Week 2, sealing the series in a dominant 2-0 victory. On the other side, the newly-formed powerhouse were close to becoming the only unbeaten team in the group stage, but their final match on the last day against World Game Star ended the narrative quickly.
ALSO READ: VCT Masters 1 Reykjavik to take place without audience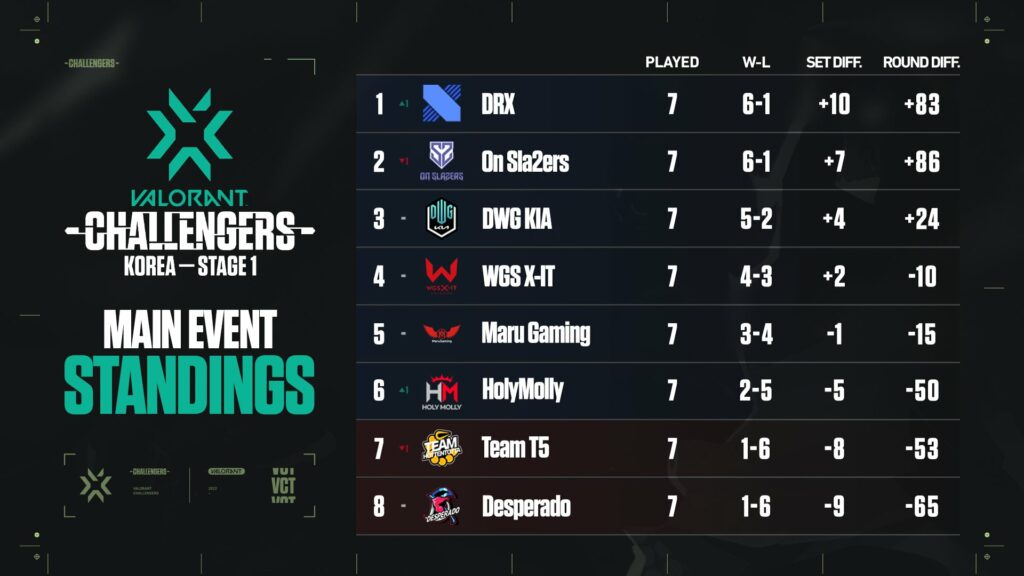 Despite losing its core players from the 2021 VCT Korea Stage 1, World Game Star's ceiling is now much higher with the late-year signing of Lee "GODLIKE" Seo-ha from the now-defunct TNL Esports, as well as the six-man roster configuration in place. Meanwhile, DWG KIA will have their sights set on the trophy as they seek to redeem themselves after failing to qualify for VALORANT Champions through the APAC Last Chance Qualifier.
Team T5 and Kim "Secret" Ha-jin's Desperado have dipped out of VCT Korea Stage 1 Challengers after finishing last in the standings with just a series win each in the three-week-long group stage.
Below you can find the complete schedule for the event: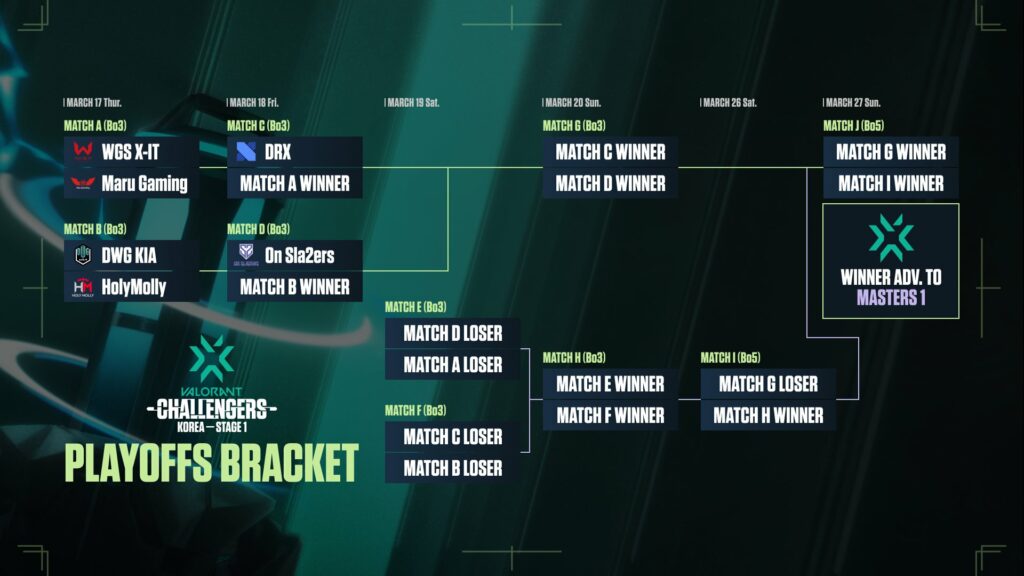 VCT Korea Stage 1 Challengers Playoffs features a double-elimination bracket and begins with best-of-three (BO3) matches and progresses to a best-of-five (BO5) configuration for the Lower Final and Grand Final. DRX and On Sla2ers have been seeded deeper in the bracket and will await the winner of WGS/MG and DWG/HM matches, respectively.
Seoul will see familiar faces on the broadcast, with two English casting pairs to provide on-the-go commentary during matches.
The full on-air crew for the VCT Korea Stage 1 Challengers Playoffs (English) can be found below:
🇺🇸 Seth "Achilios" King
🇺🇸 Clinton "Paperthin" Bader
🇺🇸 Nicolas "Tasteless" Plott
🇺🇸 William "Chobra" Cho
The KR₩105,000,000 (~US$84,738) prize pool for VCT Korea Stage 1 Challengers will be split in the following way:
| | | |
| --- | --- | --- |
| Place | Team | Prize |
| 1st | TBD | KR₩30,000,000 |
| 2nd | TBD | KR₩20,000,000 |
| 3rd | TBD | KR₩15,000,000 |
| 4th | TBD | KR₩11,000,000 |
| 5th-6th | TBD, TBD | KR₩8,000,000 |
| 7th | Team T5 | KR₩5,000,000 |
| 8th | Desperado | KR₩3,000,000 |
How to Keep Updated With all of the VCT APAC Stage 1 Challengers Playoff matches?
VALO2ASIA.com offers a real-time match ticker, updated daily across all major matches to watch. We categorize the match from one to five stars according to both teams' lineup, tournament rounds, and the tournament's prestige. You can always join the euphoria and watch your favorite team play by clicking on the match, and you will be directed to the live stream of the match. Just to remember that we use Singaporean Time (UTC+8) for all of the schedules. Check it out right now on the right side of our website!
---
For more insights on the Asian VALORANT scene and upcoming content like this, be sure to like and follow VALO2ASIA on Facebook, Twitter & Instagram.
---
Cover photo courtesy of VALORANT Esports Korea