There are now zero Korean teams left in the APAC Last Chance Qualifier.
As the Last Chance Qualifier nears its conclusion, two more teams have been eliminated, leaving only Thailand's FULL SENSE and the Japanese-Korean combine, Northeption, to grab a direct spot to Champions. 
ALSO READ:
---
NUTURN Gaming – Can they bounce back in the next season?

NUTURN Gaming were the first team eliminated on the sixth day of the Last Chance Qualifier. The outcome piles further pressure on the APAC's representatives at Masters 2: Reykjavik, who suffered losses against FULL SENSE and DWG KIA in the final chance to get to Champions. They conclude their VALORANT Champions Tour run this year without a ticket to this year's largest VALORANT LAN, set to take place this December.
Following a comfortable victory over BOOM Esports, NUTURN faced FULL SENSE of Thailand that surprised them by dominating them – even putting them under significant strain following a 13-0 loss on their second-best map, Ascent, according to VLR.gg. Their lower bracket run began with a game against local rivals F4Q. Both sides battled their way through a very equal and methodical series, with nothing distinguishing them. F4Q's comeback dreams were dashed when the Kang "solo" Keun-chul-led squad executed a flawless plan, especially on the last map, to eliminate the stream team.
NUTURN was one step closer to progressing to the lower bracket finals as they played DWG KIA. Both Korean sides engaged in a back-and-forth battle for preservation, but it was DWG KIA at the end that emerged victorious on both maps, putting NUTURN's VCT campaign to a close this year.
---
DWG KIA – Expect The Unexpected
Ultimately, DWG KIA served as a replacement squad for Chinese teams who withdrew due to logistical difficulties. They were the squad that played the most matches throughout the bracket. After falling in the round of ten against India's Global Esports, they clawed their way back with wins over REJECT, BOOM Esports, Paper Rex, and NUTURN Gaming to reach the lower bracket finals, where they faced FULL SENSE.
After the initial loss against Global Esports, Kang "iNTRO" Seung-gyun and co. were able to take a step up with winning the first and second round of their encounter against REJECT and BOOM Esports, even without giving double digits to the opponents. The next match was against Paper Rex, which came down to a handful of scenarios that could have seen either team go through with all three matches playing a part. In the end, Paper Rex were eliminated by DWG KIA, who secured their third victory in the lower bracket. The following was DAMWON eliminating NUTURN to face FULL SENSE, which they lost dominantly, 2-0 (Bind 1-13, Ascent 9-13).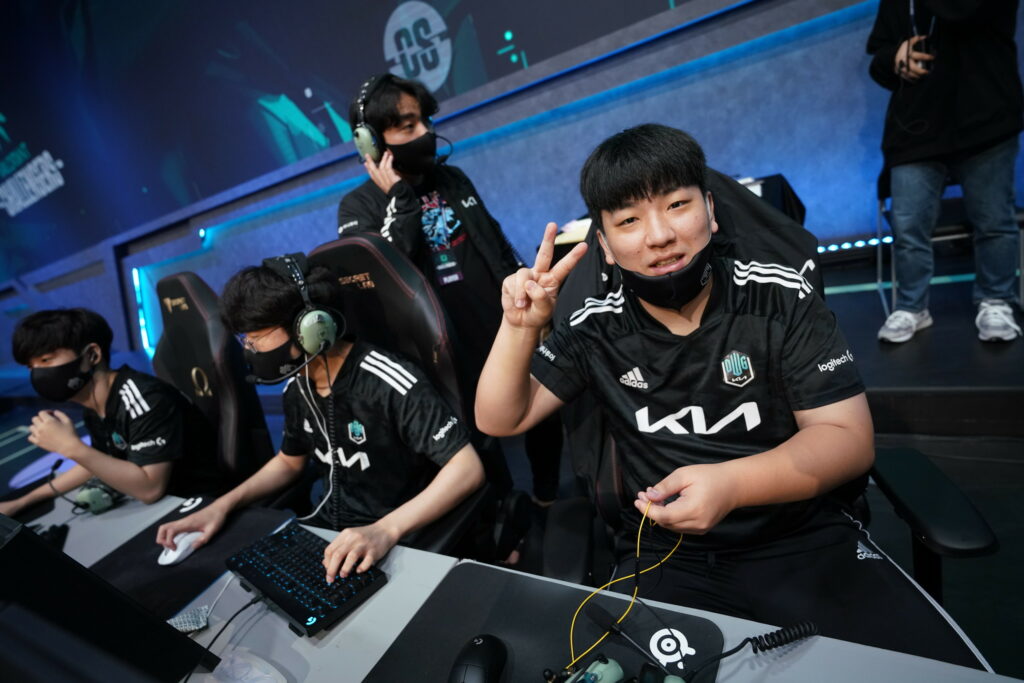 ---
With the conclusion of the fifth day, FULL SENSE and NORTHEPTION are left standing in the VCT Asia-Pacific Last Chance Qualifier, vying for a direct spot at Champions. The match-ups for the best-of-five grand final, which will kick off today at 17.00 SGT (UTC+8), look as follows: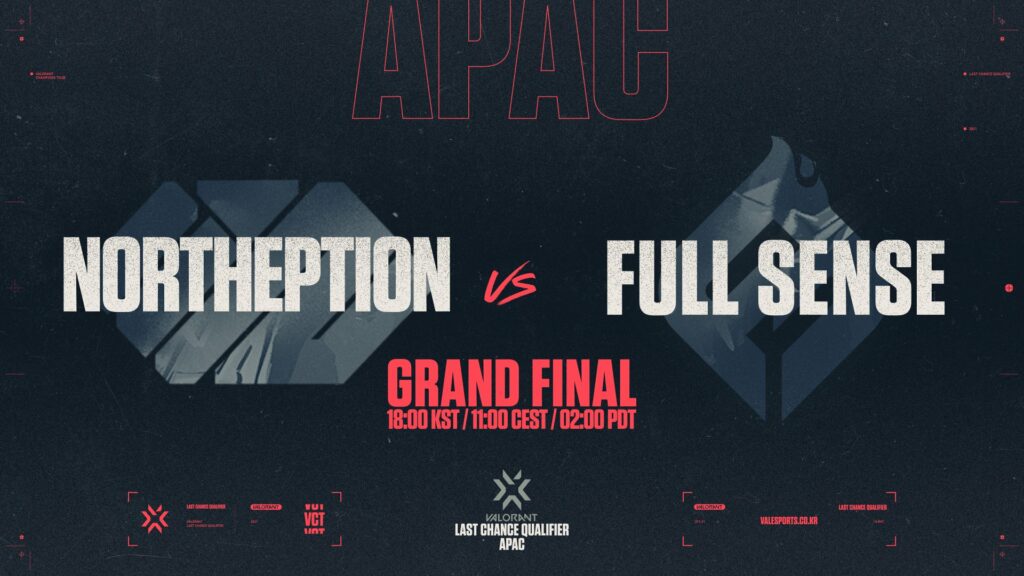 ---
For more insights on the Asian VALORANT scene and upcoming content like this, be sure to like and follow VALO2ASIA on Facebook, Twitter & Instagram.
---
Cover photo courtesy of Colin Young-Wolff/Riot Games