The Stockholm-based organization has completed its Chinese VALORANT lineup, which includes some notable names from APAC. 
CHINA – Ninjas in Pyjamas have announced their entry into CN VALORANT with the signing of a newly-formed lineup spearheaded by former Bleed Esports player Wong "JayH" Jia Heng (黄家恒) as Initiator and former Team Secret and JiJieHao coach Chong "Fayde" Hoc Wah (庄协桦) who will be standing behind the team. This confirms a prior report by journalist BoDork about the organization's pivot to Chinese operations for VALORANT. 
Accompanying the pair from MY/SG will be Bryce "bryce" Lee (李雍铭), who put pen to paper and signed with the organization after previously playing with Louvre and Kizuna Esports in the 2023 season. The Sentinel player is rejoining forces with JayH, having previously teamed up for roughly half a year under KPMOONIIBLM9/BearClaw Gaming during the 2022 season.
ALSO READ: Bleed Esports confirm nephh and juicy departures to enlist for National Service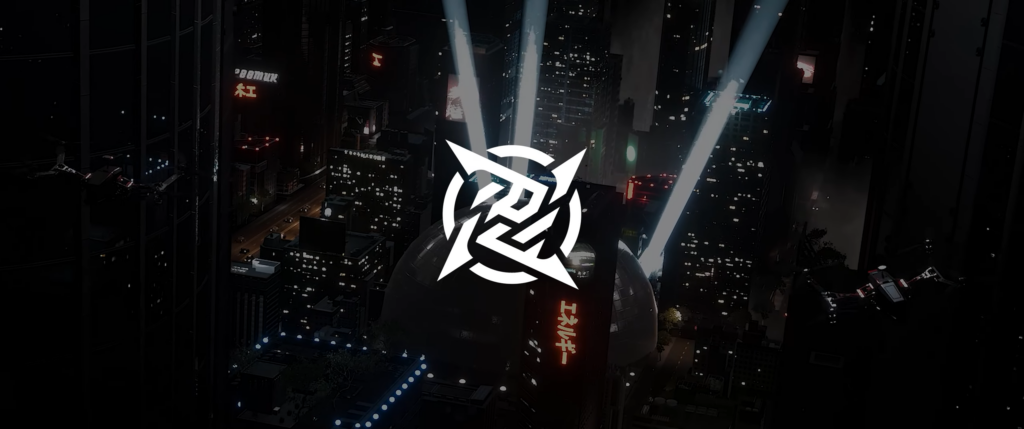 Wong "YRSelect" Zi-Ting (黄梓庭) links up with NIP in the role of Controller following his tenure with Griffin E-Sports and JiJieHao, where he will be reunited with coach Fayde with whom he shared the same banner in the latter. Rounding out the starting five coming from the Chinese circuit are former NTER pairing of Liu "Spring" Jun-Ting (刘俊廷) and Yang "Eren" Zheng-Wei as Duelist and Initiator, respectively.
The team are slated to travel to Shanghai soon to gear up for upcoming domestic competitions. "Thanks to the coach and players for choosing NIP and giving the club strong trust and confidence!" the announcement reads in Mandarin. "Since we have the same goal, let's move forward together!"
With a legacy anchored by legendary players like Christopher "GeT_RiGhT" Alesund and Patrik "f0rest" Lindberg in Counter-Strike, Ninjas in Pyjamas delved into VALORANT during its closed beta in the EMEA region. NIP went through various roster iterations and participated in several VCT Europe main events before pivoting to Brazil, where they reached VALORANT Masters Reykjavík, albeit finishing close to the bottom.
As they prepare for the upcoming season, the organization is setting its sights on achieving greater success in the newly-inaugurated region, bolstered by their existing League of Legends Pro League (LPL) franchise team and a recent merger with ESV5.
NIP's complete roster is as follows:
🇸🇬 Wong "JayH" Jia Heng (黄家恒)
🇸🇬 Bryce "bryce" Lee (李雍铭) 
🇭🇰 Wong "YRSelect" Zi-Ting (黄梓庭)
🇹🇼 Liu "Spring" Jun-Ting (刘俊廷)
🇨🇳 Yang "Eren" Zheng-Wei (杨曾威)
🇲🇾 Chong "Fayde" Hoc Wah (庄协桦) (Coach)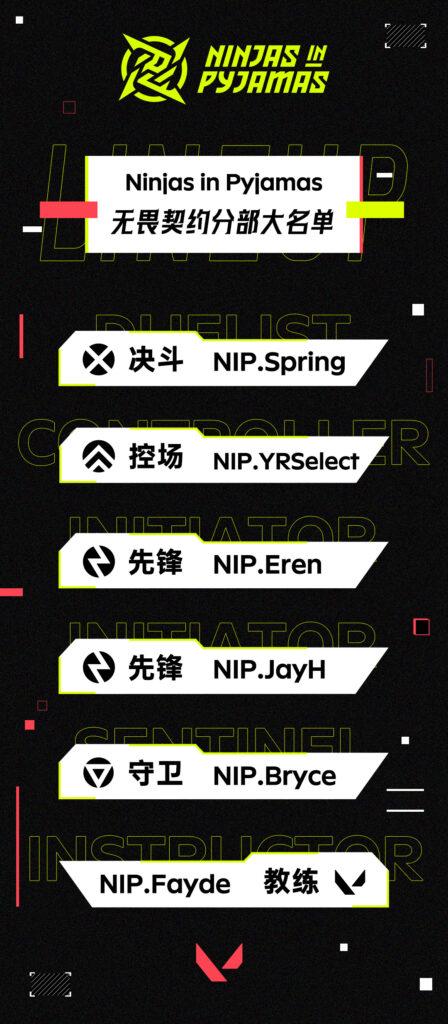 ---
For more insights on the Asian VALORANT scene and upcoming content like this, be sure to like and follow VALO2ASIA on Facebook, Twitter & Instagram.
---
Cover photo courtesy of VALORANT Esports