The double-elimination bracket for this year's LCQ has been drawn.
Riot Games has unveiled the bracket and opening matchups of the upcoming VCT APAC Last Chance Qualifier, taking place from August 1-7, which will see ten of APAC's finest teams fight it all out for a coveted VALORANT Champions berth. 
The starting line for all ten teams in attendance will not be equal, however, as they are drawn into the best-of-three, double elimination bracket based on their VCT circuit point accumulation throughout the VCT 2022 season.
Seven days of action, starting next Monday, await us in the APAC Last Chance Qualifier featuring fan favorites like Bleed eSports and ONIC Esports, along with several other household names; Team Secret, BOOM Esports, and VALORANT Oceania Tour champions ORDER, just to name a couple; and underdogs aplenty, with the likes of MiTH and Fancy United Esports hoping to make a dent and become a heavy contender for the coveted Champions slot. 
ALSO READ: VCT APAC Last Chance Qualifier team list finalized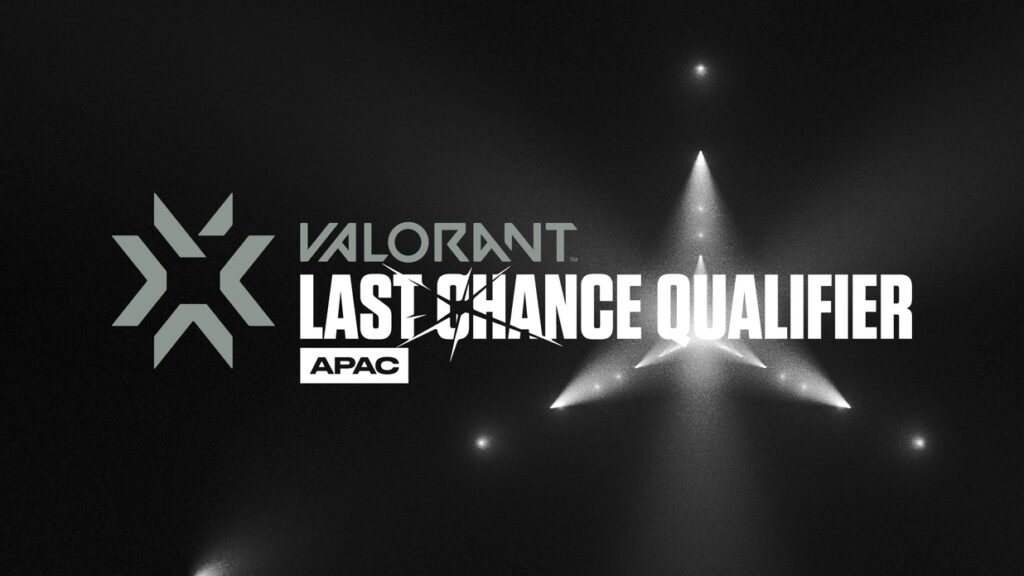 Five out of the ten teams in attendance made relatively minor changes since their last appearances in VCT APAC Stage 2 Challengers. Thailand-based MiTH have made their first-ever lineup change since January by parting ways with Thanaboon "Delend" Tungsupsatit. Puwadon "b3ta" Jaisuekul from Sharper Esport will take his spot as a Controller on the squad. 
Meanwhile, the end of the aforementioned tournament also marks the departure of Xavier "LEXY" Lee from Bleed eSports to begin his compulsory national service. Jorell "Retla" Teo was initially brought in as a substitute in VCT MY/SG Stage 2 Challengers and has been promoted as a permanent team member. Furthermore, BLEED academy player Zhong "SHINSEI" Kang Yeo has been included on the roster submitted for the VCT APAC Last Chance Qualifier. The Singaporean player will be eligible to participate on the official VALORANT Champions Tour circuit by the time LCQ begins as he just turned 16 last week, therefore meeting the age criteria to play. 
With Nguyễn "Suka" Văn Tiến's departure to Fancy United Esports, CERBERUS Esports brought in two new youngsters to the picture. Hoàng "Layla" Đức Hùng and Dương "Tinggg2k5" Mạnh Thắng were formerly playing for Fancy United Esports and most recently Brave Wolves, where the team finished 5-6th in VCT Vietnam Stage 2 Challengers. Nguyễn "Daicute" Anh Minh Thông will remain competing under the banner as CERBERUS' sixth member. The moves leave the team with only three players from their Stage 2 campaign. 
Meanwhile, domestic rivals Fancy United Esports made two big acquisitions last month. Nguyễn "Nizzy" Tấn Thành and Nguyễn "Suka" Văn Tiến will make their debut for Fancy United Esports in the LCQ, replacing Vũ "Acerola" Thượng Toàn and Bùi "BMV" Minh Vũ.
From Indonesia, Fikri "famouz" Zaki is set to complete the roster of BOOM Esports for the VCT APAC Last Chance Qualifier as part of a short-term loan agreement with Persija Esports. The 24-year-old Duelist/Initiator would fill the spot left vacant by Rafi "frostmind" Diandra, who departed the squad early this month.
Below you can find the bracket of the VCT APAC Last Chance Qualifier: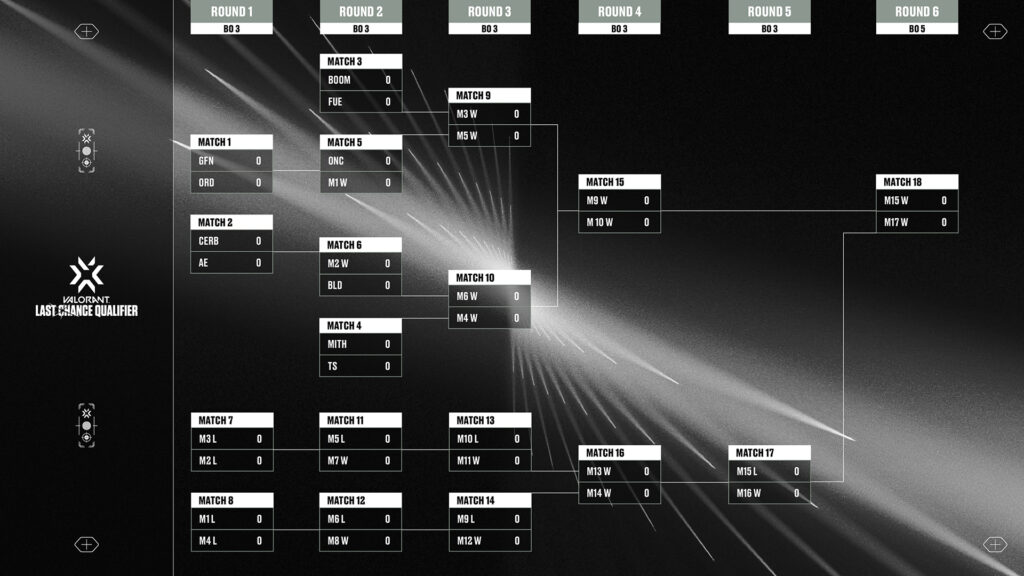 ALSO READ: Nigma Galaxy part ways with male team after being denied VCT 2023 partnership
The opening day of the event will see the first round of the double-elimination bracket play out, with Griffin E-Sports and ORDER kicking off the action of HKTW's first encounter with an Oceanic team, with ONIC Esports awaiting the winner in the next round. 
Subsequently, CERBERUS Esports will go up against the lowest-ranked team in the circuit standings, Alter Ego from Indonesia. A victory in this series will put the winner up against APAC's #3 Bleed eSports in the following round.
BOOM Esports vs. Fancy United Esports will then close out the first day of play. The first series for MiTH and Team Secret will start on the second day.
Below you can find the playing order of the first round of the VCT APAC Last Chance Qualifier: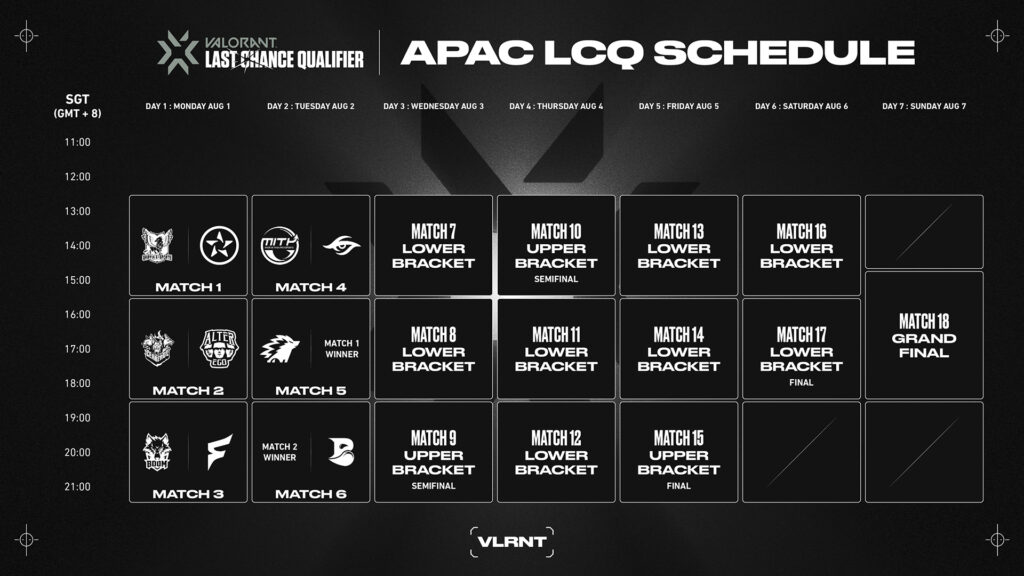 ---
For more insights on the Asian VALORANT scene and upcoming content like this, be sure to like and follow VALO2ASIA on Facebook, Twitter & Instagram.
---
Cover photo courtesy of Wojciech Wandzel/Riot Games